Target Fall / Winter Toddler Clothing Haul | 3T
Milo is growing faster than a weed. You know the saying "growing like a weed."? Well I wish that was the case here. My tenacious little tot is filling out his 3T clothes at an unbelievable rate. The last clothing haul I did from Target :
Toddler Fall Clothing Haul | Rock N Roll Prince
the clothes were a little bit big still. Something for him to grow into. Now they fit perfectly and that was only a month ago. Milo has his cranky moments from growing pains, but he is turning into a charming little boy. Since cleaning out his closet of all the items that no longer fit him and taking them to a Kid to Kid for resale and donation I noticed his closet was a bit more bare than I expected. So that called for another trip to Target for more cozy, comfy fall and winter necessities.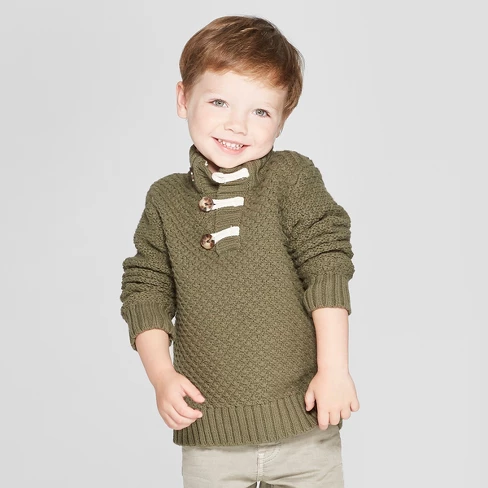 Toddler Boys' Mock Neck Pullover Sweater with Toggle Sweater - Cat & Jack™ Green
This sweater is so cute and adds a snidbit of class for a day that requires a little more handsome style. I like the three rope latch buttons on the neck and the crowl fit so it's not too tight or itchy.
Toddler Boys' Nickelodeon Teenage Mutant Ninja Turtles Short Sleeve T-Shirt - Red
Ok so you might have noticed I don't dress Milo like a typical toddler. I like to have a little funk and a little edge with our style. When I shop for him, sure I pick out things I like, but I also include his personality. When I unwrapped this shirt from the shipment packaging he lunged for it. The entire day he wore it for the first time he kept looking down at it and rubbing it. So I'm going to pat myself on the back and say he is a smokey bear fan.
Milo has a few Grateful Dead pieces hanging in his closet. They are one of my all time favorite bands and Milo has been a fan since he was born. One of the first pieces of clothing I ever bought him was a Grateful Bear onesie from an Etsy shop. I love watching Milo dance around when we play music and this hoodie is so soft and lightweight. Perfect for fall and layering in the winter. It also shows old tour dates on the back. Which I thought was a nice touch. Junk Food always pays attention to detail.
I am absolutely obsessed with these moto joggers. They are a bit baggier than a typical jogger leaving them with a bit more edgy hip hop look. So comfy and cute on a little tot.